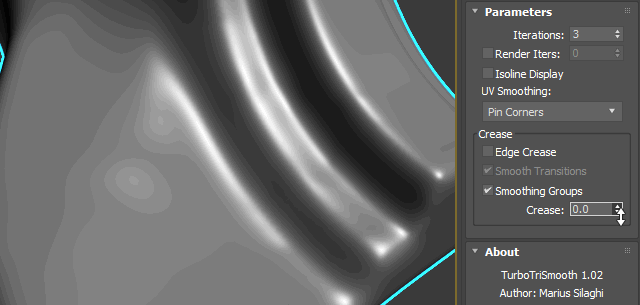 No quads needed
TurboTriSmooth is a modifier for 3ds Max that subdivides triangle meshes while producing smoother results and nicer topology than the standard TurboSmooth.
It can be used on triangulated models, cloth, scans, decimated meshes, fluid simulations, terrain or on any triangle mesh.
It will automatically triangulate the models before subdivision.
NEW in 1.02 - Added support for semi-sharp creases based on edge crease values and smoothing groups
Here are some of the benefits you get:
Smoother results than the standard TurboSmooth for triangle meshes
Less artifacts
Nicer topology
Produces less polygons per iteration than the standard TurboSmooth
Situations in which you would want to use TurboTriSmooth:
When you have a triangulated mesh that you want to subdivide
When you are working with cloth meshes
When you are working with 3d scans and decimated meshes
When you are working with fluid simulations
When you want to subdivided a triangle mesh before retopologizing or remeshing it.
Watch the videos below to learn more about TurboTriSmooth
Sources for the 3d models I used
Compatibility
TurboTriSmooth works with 3ds Max 2013/2014/2015/2016/2017/2018/2019/2020/2021/2022/2023/2024 (64 Bit).
Purchase
$48 Node-Locked
License can not be moved to another computer once activated
License can be activated on 2 computers
One user per license
Perpetual license
$72 Floating
License can be moved freely between computers
One user per license
Perpetual license
Buy TurboTriSmooth (Node-Locked) for $48 + tax
You can access your files and licenses on the My Downloads page after your purchase. If you purchased the product for somebody else send me an email and I will change the login email address. An invoice can be generated after the purchase.
For orders over $300 you can contact me for alternative payment methods and invoicing.